In this IPONWEB Q&A, we're setting our sights on the future of mobile advertising with an in-depth discussion on SKAdNetwork – and the recent release of the 4.0 update – with Ionut Ciobotaru, Co-CEO of Verve Group.
Thanks for taking the time to chat with us today. Let's begin with a short summary of you, your business, and your role in the online advertising industry.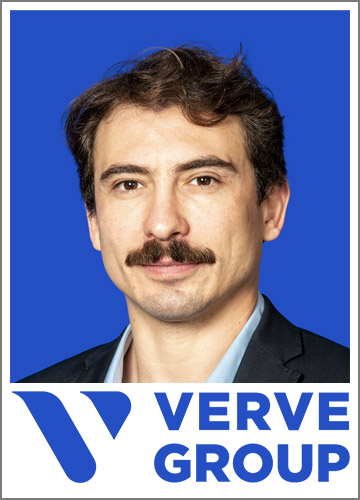 I'm Ionut Ciobotaru, and I am the Co-CEO of Verve Group. We are a global omni-channel and privacy-first ad platform. I have been in the ad industry for over 15 years, having previously founded PubNative, the mobile SSP that is now the Verve Exchange – and one of the largest mobile-first exchanges in the Open Internet.
I have seen the AdTech industry evolve from the simpler (but less efficient) ad network days to the more sophisticated, privacy-focused ecosystem it is today. We are going to work with fewer identifiers across channels, and therefore it's important to invest heavily in privacy-first solutions. It is one of the core tenets of our value proposition here at Verve Group. So I am excited to be talking about SKAdNetwork (SKAN) and what it means for our industry now that SKAN 4.0 is available in iOS 16.1.
Since the launch of SKAdNetwork in 2018, do you think this framework has pushed the industry forward in meaningful ways?
SKAN has been received with both skepticism and applause within the ad industry and the privacy circles.
SKAN primarily impacts the demand side, but has consequences on the publisher side as well. Since iOS 14.5, CPIs have gone up for advertisers and attribution remains a concern, while publishers face addressability and monetization challenges with CPMs going down. Combined, it has resulted in a user acquisition landscape that's more complicated and less effective than before.
Mobile Measurement Partners (MMPs) also continue to be the status quo. Any potential impact that SKAN might have in the long run, or at scale, is limited as long as fingerprinting (probabilistic) remains.
With SKAdNetwork 4.0, which of the major changes do you think will be most influential for players in the mobile advertising space?
There are a few updates that are worth a mention.
Updates to Conversion Window
We should remember that MMPs permit tracking full Lifetime Value (LTV), i.e. unlimited number of postbacks for every user action or event. With the recent SKAN 4.0 update, Apple has lengthened the conversion window. The random delay is 24–48 hours for the first postback, and 24–144 hours (or 1-6 days) for the second and third postbacks. For marketers, this means waiting longer to ensure all postbacks are collected on a campaign before making decisions.
Updates to Conversion Value and Source ID
Apple is also introducing 'coarse grained' conversion values, in addition to the existing 'fine grained' conversion values that exist today.
This should help extract some meaningful information, especially for small advertisers that may not be able to drive large volumes of installs. For context, the current version of SKAN made campaign optimization difficult in instances where the campaign generated few installs or the volume of the past-campaign events was too low and fell below the privacy threshold set by Apple. The conversion values were nulled in such cases, so it was an 'all or nothing' principle.
The 'coarse grained' conversion values will provide information on campaigns with lower installs or post-install events.
The coarse grained conversion can be further categorized into three main buckets: Low (L), Medium(M) and High (H).
In the event that the conversion value is nulled, advertisers still get notified that the event falls into the H, M, or L category.
What is important for advertisers is to configure or define events that fall into these three buckets.
Even though the information may not be entirely sufficient, it does provide some signal into the quality of the conversion.
Apple has also renamed Campaign ID to Source ID and it now supports 4 digits (from the previous two digits). It provides granularity in adding or configuring new parameters like placement, location, or creative type. It's subject to crowd anonymity as in the case of conversion values, and will provide better insights when it is above the privacy threshold.
In a post-ATT world, device fingerprinting and black-box attribution techniques are still something of a gray area. Do you feel that SKAdNetwork 4.0 is a step towards alleviating these concerns?
Apple does not permit fingerprinting. However, it continues to remain a status quo. The gray area exists because we are still in a phase of evolution.
SKAN 1.0, though introduced in 2018, had no major adoption. Since then, SKAN has evolved from supporting click attribution, click- and view-through attribution, to click and multi-touch attribution. SKAN is still being perfected, and we will reach a day when SKAN has evolved so that probabilistic attribution is likely not supported.
That said, advertisers still need data granularity on users. This concern is not alleviated via SKAN today. Although SKAN 4.0 is now officially available, it's important to note that the adoption is going to be slow. It is available on iOS 16.1 or later, meaning apps and users will have to update to the latest version for the industry to see traction – and this can take some time. User acquisition will continue to get complicated during this phase. Some demand might drop in this interim period, but a new balance will be found soon and we (as Verve Group) are extremely bullish about it.
In terms of best practices, what advice would you give to partners on the demand and supply side to improve both performance and adoption of SKAdNetwork?
It's necessary that we have discussions on embracing this change towards a true privacy-first advertising ecosystem.
First and foremost, it's important that advertisers work with a transparent DSP. It's important to have complete visibility into how DSPs create and configure campaign IDs, and define conversion values. Only when you connect the both can you understand more – basically getting the learnings in-house.
Understanding the LTV of users driving installs is complicated today. But you can work with your DSP partners in finding the right events that will define the right signals and determine the quality of the users.
On the supply side, the pace of adoption will be slower, because SDK updates usually take time. It's important that the DSP partners work closely with their connected exchanges to drive supply-side momentum.
Looking closer to home, how is your own business adapting to SKAdNetwork? Which changes are you implementing to ensure continuity?
From a product standpoint, even in a probabilistic world, we focus on optimizing without IDFA – that's our strength. We have learned to thrive in ambiguity.
Our privacy-focused investments include Dataseat, our DSP that is built entirely for the IDFA-less world, and our targeting strategy that focuses on contextual and cohort-based learning. With Dataseat and the Verve exchange, we continue to invest heavily in machine learning that specialize in studying and optimizing SKAN-only traffic. This is the future.
We continue to work closely with clients to learn to spot pockets of inventory that work best to deliver ROAS positive. We also partner closely with clients to create campaign id (testing variables) and share learnings consistently, as campaigns are optimized towards ROI.
Thanks to Ionut for being so generous with his time in this Q&A. Of course, if you'd like to learn more about how IPONWEB can help you maximize the results of your mobile user acquisition campaigns, just get in touch.