Multi Channel Network (MCN) has announced the launch of Smarthub – its new proprietary platform that will facilitate the trading, tracking and reporting of automated bookings for broadcast linear TV.
The platform, which is now available to all agency groups across the country, will provide ease of transaction for bookings across MCN's linear subscription and FTA television channels, plus digital video platforms. MCN represents both Foxtel and Network Ten.
To begin, Smarthub will facilitate programmatic TV (PTV) trading on the Foxtel network, replacing the current AOL platform used to book and trade subscription TV campaigns. Programmatic TV bookings will be available to be booked against 40 targeted behavioural segments from Multiview – MCN's 200,000 home audience panel as well as via OzTAM demographics. Smarthub is the only platform in market with the ability to transact both currencies.
Future capabilities for Smarthub will include digital video inventory utilising Multiview segments and programmatic trading on Network Ten's digital channels.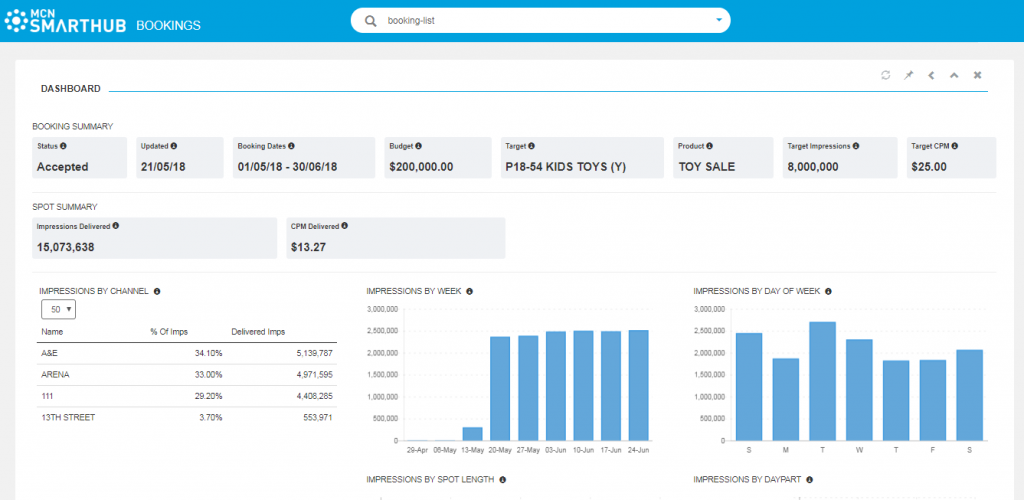 MCN chief sales and marketing officer Mark Frain (pictured) said Smarthub was the next milestone in MCN's legacy as a market leader of innovative solutions as it's currently the only platform able to offer true PTV trading in broadcast linear TV not only locally, but globally.
"Smarthub aims to help accelerate the adoption of automated trading, which is fast becoming the growth area for Australia's media sector as clients can receive both the data segmentation and trading delivery benefits from digital, plus the mass scale and reach of linear broadcast television," he said.
"With the increasing concerns around brand safety on video-based platforms, and tech vendors retreating from supply-side trading platforms, the solution also ensures the market can continue trading TV efficiently through a secure and locally produced portal."
Smarthub, MCN's third platform launch to market in the PTV space, has been designed to connect MCN to its buy-side customers using a simple and interactive interface built in collaboration with IPONWEB, a leading AI, data and engineering company.
MCN chief technology and systems operations officer Angela Goodsir said the development of the platform was testament to MCN's commitment to provide first-to-market products for the industry that truly change the way we transact media bookings.
"MCN has a strong pedigree in building PTV platforms for broadcast linear inventory, and so developing Smarthub was a natural expansion of our automation roadmap," she said. "With our strong innovation credentials in this space we are ensuring agencies and clients can progress their automation journey for broadcast linear TV.
"The platform will allow brands to connect with highly targeted audiences and move away from blunt age/gender demographics for subscription broadcast linear TV and then, ultimately, free-to-air digital channels and digital video, all within one system. The platform's local roots will also ensure we can be agile and meet the market's ever changing needs quickly and effectively."
Goodsir added the partnership with IPONWEB afforded great opportunities to explore further advancements in the automation space.
"IPONWEB has outstanding credentials, being well recognised as a global leader in programmatic real-time ad technology and infrastructure," she said. "This capability means MCN has the potential for integration and connectivity into the digital mindset and ecosystem for further advanced advertising models for broadcast. The agile delivery and flexibility of our partnership has also enabled the platform to be up and running within a record-breaking 12 weeks."
A key foundation partner of MCN's PTV offering, Dentsu Aegis Network's programmatic and buying arm Amnet, has been trading PTV with MCN since 2015. National managing director for Amnet, Indy Khabra, welcomed the launch of Smarthub as automated buying is driving more surety in market as well as reducing wastage.
"Automation helps brands better connect with their consumers in a highly targeted fashion and investment into systems that will help expand this thinking to broadcast linear TV is a huge step in driving the growth of this trading model," he said. "In the time we've been working with MCN we've seen huge success – for example a retail campaign executed at Christmas saw a return of $19 for every dollar spent on Foxtel. Results like these only demonstrate the strength of automation for linear TV and the launch of MCN's Smarthub portal is another milestone we are pleased to be partnering with."
View the original article at MediaWeek